Note: this is your last chance to win a free Alfred Powerpack!
If you want to enter, you should own a Mac, since you'll need one to actually use Alfred!
To enter, do one of the following:
follow me at @harpaa01
Subscribe to icanthascheezburger via email
Subscribe via RSS at the link above and leave a comment with your email address (I won't publish the comment)
If you also mention one of these posts on Twitter or Mastodon or Micro.blog (and mention me so I can see it) you'll double your chances.
Winners will be randomly selected on Wednesday. I don't want to reveal too many numbers here, but let's just say you'd have really good chances of winning if you entered.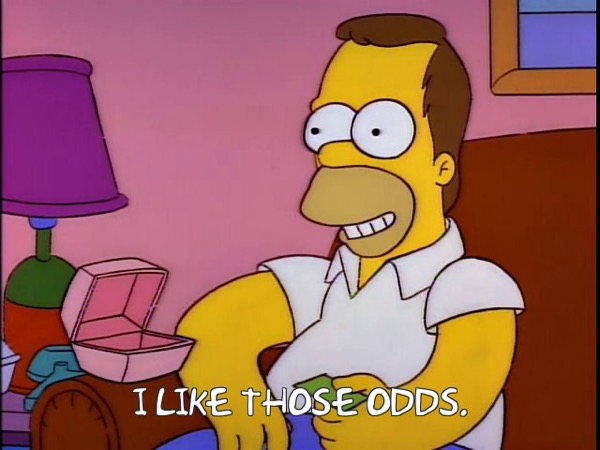 ---
Copying and pasting is a nice little productivity boost that you get when using a computer, but the fact that you can only ever have one thing in the pasteboard at a time is kind of limiting.
With Alfred, you don't have to feel limited in this way: enter Clipboard History.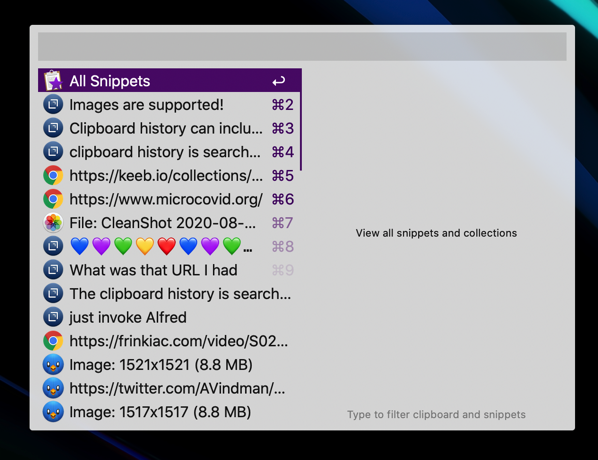 This is the kind of feature where you first hear about it and your reaction is an unenthusiastic "hmm, neat."
But I promise: once Alfred is keeping your clipboard history and you actually get used to it being there, it's liberating.
It's easy, just invoke Alfred, type in the keyword to get to the clipboard viewer (mine is c) and hit Enter, and you'll be greeted with recent Clipboard items.
"What was that URL I had a few minutes ago? Oh, no worries, I'll just grab it quick."
Ever feel a little bit hesitant to delete some text from your document? Just ⌘X and you can cut it with confidence that it's right there if you change your mind, even if you copy some other text to the clipboard later.
Got a list of different things you are going to copy from one file to another? Don't keep cmd-tabbing back and forth; just copy them all in sequence, then use Alfred to get the one you need, right when you need it.
The clipboard history is searchable, so even if you don't 100% remember when you copied something, or even if you don't quite remember exactly what the text was, you can quickly find it.
If you copy images to the clipboard, Alfred handles that too!
By default, Alfred won't keep sensitive items in the clipboard history, like things copied from your password manager or the Keychain.
But wait, there's more!
Keeping recent clipboard items is great, but what if you just have some snippets of text that you frequently want to include in documents?
Alfred's got you.
Enter snippets!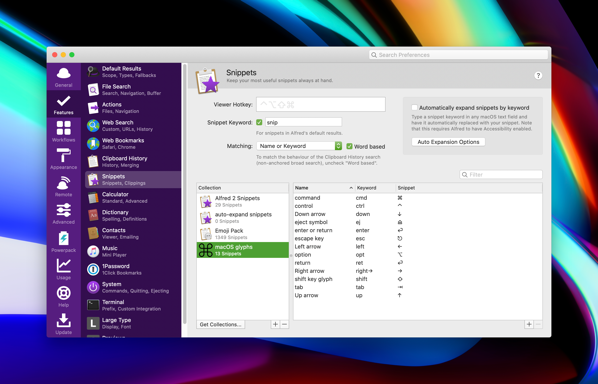 You can give snippets of text a name, and then when you're searching the clipboard history, you can search for the snippet of text by name.
And if you want to use Alfred as a basic version of TextExpander, you can also add the ability to automatically expand snippets when you enter the keyword.
These snippets are highly useful, and you can import them from the web. I've imported a collection of emoji by name, for instance.
You should use Alfred!
This is my final post in this Alfred series. I've shown you how to do a variety of things with Alfred, and it's still hard for me to describe exactly what Alfred is for, because Alfred can be used for anything you really can imagine setting it up to do.
But at the end of the day, Alfred buys you back some time in your day, a few seconds at a time. Sometimes when you use it, it buys you back a few minutes. But it helps you do things without effort and without thought.
And when you're in "the zone" and Alfred can keep you in the zone by making it possible for you to do something like type in the glyph for ⌘ without having to dig into the character viewer, Alfred just gave you back more than just that couple seconds.
I don't spend tons of time using Alfred (and you shouldn't!), but I invoke it many times a day: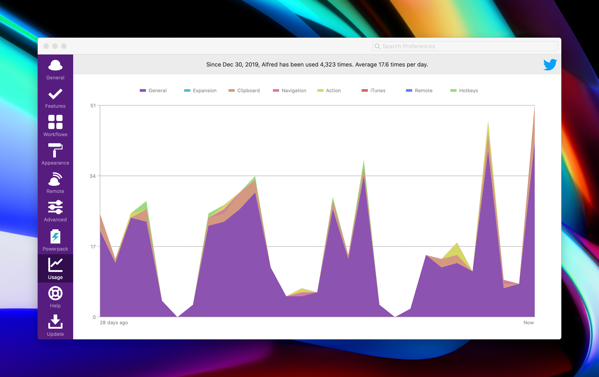 And if Alfred kept track of my usage across every device I've used it on, it would no doubt tell me that I've used Alfred at least fifty thousand times since I first installed it 10 years ago, almost to the day.
Thanks, Alfred!