Photos for Mac: Deleting Items From Within a Playlist
As part of my workflow for archiving downloaded videos from TikTok, I put TikTok videos into a manually created album in the Photos app so that I can drag them in one step into the Finder.
But after I was done, I couldn't delete the items from my photo library; the option doesn't exist when I right-clicked the items, and the Delete key only deletes the items from that album.
I searched the web for this, thinking maybe I'd find an iOS shortcut that does the trick. Glenn Fleishman had an article on MacWorld that outlined a way to do it that involved tags and a smart album, but that seemed really convoluted.
But there's actually a really simple solution: you drag the items to Recently Deleted.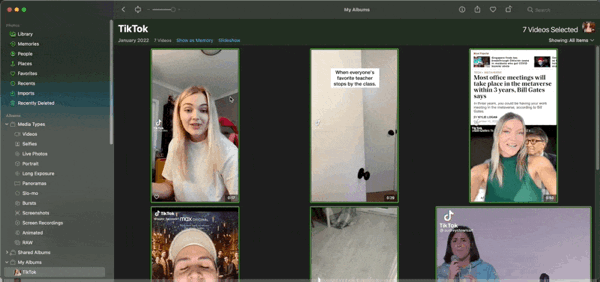 Sometimes the best solutions are the simplest ones.
It wouldn't kill Apple to add a context menu item for deleting, though.