My Sweet Setup: NetNewsWire and Feedbin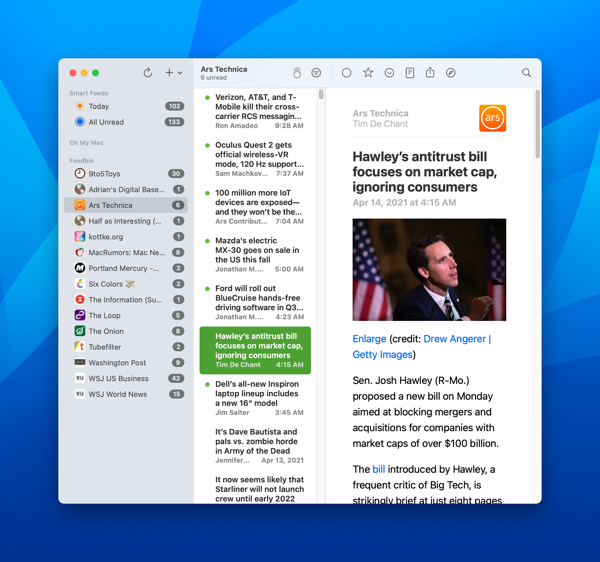 When you look at NetNewsWire you can just tell it's a Mac app through and through. At first it might feel a little spartan, but it is nonetheless quite full-featured as a reader. But once you get to know it, it's quintessentially a Mac app. It uses a beautiful and standard Mac interface. And it feels like a Mac app in the way that apps only do when the developer puts a good deal of care into making a great Mac app. NetNewsWire is blazing fast and feels light.
NNW has an iOS (and iPadOS) counterpart, and it lives up to its Mac sibling of offering very standard native UI with no frills and great performance.
To keep my RSS subscriptions in sync between my devices I use Feedbin. Feedbin keeps all my subscriptions and it keeps track of which items are read and unread and syncs that to NNW. You can even use Feedbin directly as an RSS reader; they have a web and iOS app.
My favorite Feedbin feature is its support for email newsletters. A lot of sites have newsletters but no RSS feeds, but that's no problem. When I want to subscribe to a newsletter, I give the site a unique Feedbin email address for my account, and emails that go to that address will show up as though they're RSS feeds in my apps. It's really slick.
I use NNW on both my Mac and iPhone now (Reeder is also a great app for both), but if you prefer to mix it up, it's nice to have a middleman like Feedbin, because lots of RSS apps sync with Feedbin, so I can use a different app on my Mac than I use on my other devices.
Best of all, NetNewsWire is free and open-source (and Feedbin itself is open-source but charges a small fee to cover server costs). Brent Simmons has a day job and considers NNW maintenance to be a labor of love, and also there is a community of developers doing ongoing maintenance and development for NNW. Version 6 for the Mac was just released and it's a beautiful and stable update, and iOS version 6 is coming very soon.
NetNewsWire's presentations of RSS feeds is a perfect microcosm of why I choose RSS in the first place: I like having a no-nonsense way to keep up with and view content from my favorite blogs and other news sources. RSS is clean, fast, and free of JavaScript trackers and other bullshit. NetNewsWire really appeals to the RSS enthusiast in me.