Bose QC35 headphones: finally!
I've long been on the quest for the perfect pair of headphones suitable for using for work and pleasure. For the past year or so I've settled on Beats Studio Wireless headphones as my "good enough" headphones that get the job done because they offer two things I find essential: 1) they're wireless, and 2) they offer active noise cancellation. 
While my Beats headphones were getting repaired awhile back I took to using my Bose QC3 headphones, a fantastic pair of on-ear, noise cancelling headphones, and I was a bit surprised to remember just how good Bose's noise canceling technology is (after all, they invented the category). Due to a very luckily timed tweet Bose caught wind of my desires and they were kind enough to send me a pair of QC35s which they released last Sunday (full disclosure: Bose gave me these; they aren't a review unit).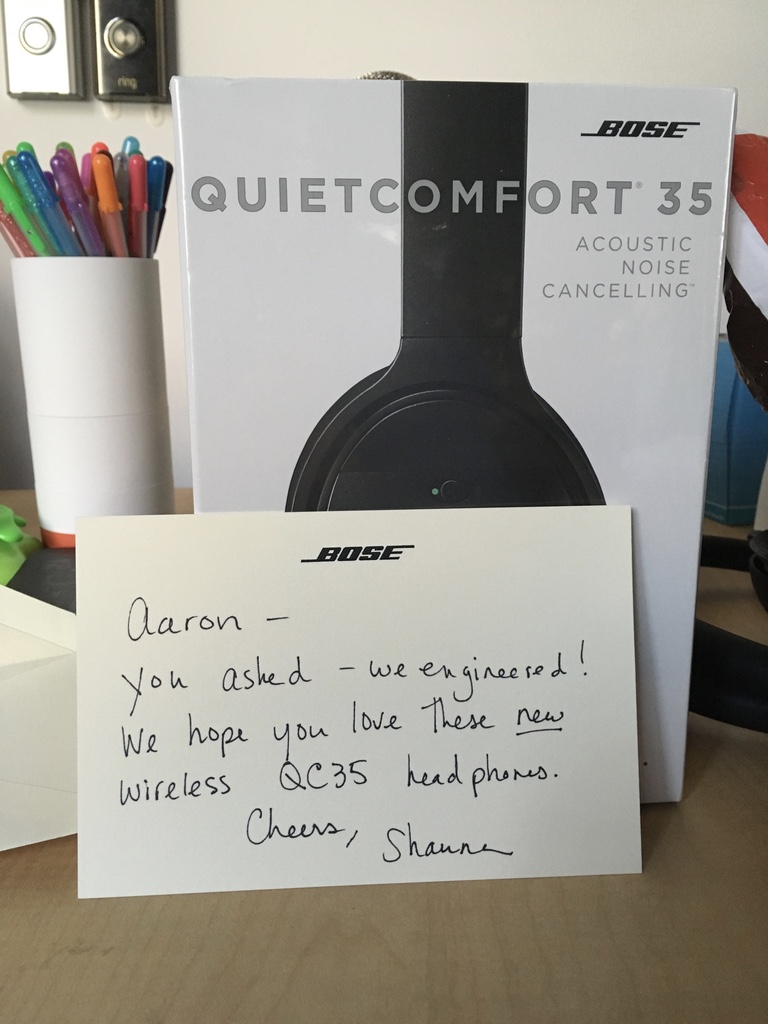 I plugged them in to charge them up (silly superstition of mine that I like to give brand new stuff a full charge before using) and I put them on and powered them on. They were easily paired with my iMac and I was off to the races.
I didn't want to post knee-jerk impressions so I have held off, using these over the past few days to really get a sense of what they are like to use, and I have to say, I've never been more impressed by a pair of headphones.
Mind you, I'm not an audiophile; most of the things I'm looking for in a pair of headphones are convenience features, and I'm not listening to music to really appreciate every single detail of a song with perfect fidelity; I'm usually using headphones because I work in an open-plan office with a bunch of other folks and I want to provide some sense of isolation to help me concentrate, and I want to enjoy sound that is relatively high quality. Of course, I assume that if you're reading a post about Bose headphones you aren't the type to snub your nose at them anyway, so you're probably going to be fine. I know that Bose stuff may not be an audiophile's dream but they do a great job of making quality sound equipment for the mass market.
Noise Cancellation
The noise cancellation on these is remarkable. I've used the Bose QC15s and the Bose QC3 and have always found their noise cancelling to be quite good, but the QC35 uses Bose's latest tech, incorporating microphones both inside and outside of the cup to vastly improve noise cancellation performance. And it makes a huge difference. I feel like I'm the only person in the room when I'm listening to music with these on. I can't hear my coworkers typing on their clicky keyboards or chatting or laughing. It's really quite fantastic.
Compared with my Beats headphones, Bose's acoustic noise canceling is wildly better. In particular, I appreciate that on the Bose headphones I don't hear my pulse echoing when no music is playing (something that will drive you nuts if you just want to enjoy the noise cancelling without any music playing).
Wireless
Being wireless might just seem like a box to check off in a features list, but to really do it well takes a lot more than that. The QC35s will pair nice and easily with Bluetooth. You can pair the headphones to up to eight different devices and the headphones can be connected to two devices at once (though audio will only come through on one device at a time). These aren't the first headphones to offer this kind of functionality, but allowing you to control it via an iOS app means that for the first time in my life I've been able to use wireless headphones with two devices at once without it being a huge pain in the neck. It'd be super cool if they offered an OS X app for doing this, but I can live without that, especially given that one of my connected devices is bound to be an iOS device anyway.
Example of this multi-connect functionality in action: You're at your desk, listening to music on your computer, when you get a phone call. You pause the music and answer your phone, carrying on the conversation all through the headphones. When you're off the call, you play the music again and you're right back to where you were. 
If you're actively listening to sound on one device and the other starts playing something, you won't hear it until you stop sound on your current device, which is a smart behavior; you don't want your phone hijacking your headphones just because someone is calling.
Sound quality is excellent. I know Bluetooth headphones get a bad rap for having poor audio quality but in the past couple of years I think they've crossed the "good enough" threshold for 98% of consumers. Music sounds clear and detailed, with a decent (but not overpowering) amount of bass. The noise canceling helps you appreciate your music even more because less of it gets drowned out by outside noises. You'll be able to keep your music at a quieter level while still blocking out the environment around you.
Bose prides themselves on reducing what they refer to as the "electronic noise floor;" that is, that soft buzzing sound you can hear when the headphones are on but nothing is playing. My Beats Studio Wireless headphones have a particularly noisy buzz that makes them seem cheap, but the QC35s don't exhibit this at all. If there is any buzz it's totally inaudible for me.
Bluetooth performance overall is great. I can freely move around at my desk without causing so much as a jitter with the sound. I've had audio skip on me a bit on my iPhone and iPad, but I believe in these cases the devices were at fault; it could either be related to being connected to two devices at once, or it could be just that iOS skipped the audio for a fraction of a second when notifications came in or I switched apps. I spent awhile using these with my iOS devices and the issue was rare and nothing to write home about.
Battery Life
I have been using these headphones since Wednesday, which means two and a half full workdays plus a couple hours this afternoon, and I didn't charge until last night when I still had about 15% left. Bose rates these as offering 20 hours of battery life and I think in practice they perform even better.
If you want to go wired you can enjoy twice as much battery life. Having the wired option is nice on these headphones; if you want to use someone else's device or share the headphones quick it saves you from needing to go through the Bluetooth pairing process for just a quick listen on another computer. If this were my ideal pair of headphones I'd also be able to plug it in via USB and have it be a USB audio device, letting me charge and listen to high quality audio. Another day, maybe…
Comfort
Bose put an incredible amount of thought and effort into this. While my personal favorite form factor is the on-ear design (found in the discontinued QC3 but still available in their spiritual successor headphones, the SoundLink on-ear wireless headphones), the QC35s are building on years of experience making comfy headphones. The materials feel light but premium, and the ear cups feel soft and easily fit around my ears. They don't make my ears feel too warm or sweaty either. They're very easy to wear all day.
Conclusion: Buy
Again, audio purists would probably reject headphones like this outright; acoustic noise cancelling and Bluetooth have both traditionally been considered things that adulterate the sound. But as I said, purists probably don't care how good these are and they probably aren't reading this.
The people who are reading this are most likely people who want a quality pair of headphones that sound great, are comfortable and convenient to use, and can provide you with a little sound isolation in a noisy environment. I'm confident that the QC35s are the best headphones for that job. Bose may not have been the first to put noise canceling Bluetooth headphones on the market, but they are for sure the first ones to do it right.